As climate change and sustainability come to the forefront of our public consciousness, it's important to continually assess how our design and supply chains can be recalibrated to reduce environmental impact. With increasing customer demands for brand responsibility and sustainability, and more and more materials marketing themselves as "eco-friendly", it can be difficult to parse what is worth pursuing.
This issue becomes even more confusing when you consider the recent down-tick in materials that can be recycled. Local recycling collectors are more constricted on what they are willing to accept, partly due to new export restrictions across the globe.
With major brands such as Burberry, Unilever, L'Oréal, Walmart Inc., Target and Carrefour committing to reducing their plastic waste, the tide is turning towards sustainability being the norm and not the exception. (1)
The most recent trend in eco-friendly materials is simple but also groundbreaking – reusable and zero waste products and packaging.  It's more achievable than it sounds, and much more eco-friendly than the traditional recycled and recyclable materials.
National Sword and the Sustainability of Recycling
Exporting recyclable materials is a key component of recycling infrastructure in the United States. China, until recently the largest recyclable scrap importer in the world, has recently implemented new policies restricting the importation of foreign scrap and recyclables to improve their environmental impact.
In the past year, many other countries, such as Vietnam, Thailand, and recently, India, have also enacted bans on the imports of recyclable scrap.
This has caused a massive backlog and storage of recyclables within the US, and states like California are scrambling for solution for stockpiles of materials at solid waste and recycling facilities. (2)
Some cities are even sending this recycling straight to the landfill, with one Pacific Northwest waste management services sending more than 2,000 tons of material to landfills since National Sword went into effect. (3)
While recycling is a great idea when it can be managed effectively, it's no longer cost effective or feasible to recycle the amount of plastics that are currently being manufactured. The logical step forward is to reduce overall waste in supply chain and design. This not only helps the environment but can also be beneficial to your bottom line.
Reducing Waste in Supply Chain
An easy switch is to work with biodegradable and compostable packing materials. Using paper tape and compostable packaging when shipping greatly reduces environmental impact. Biodegradable packing materials made from corn starch and even mushroom fiber are now widely available on the market.
Small changes to transport packaging design, such as bulk packing instead of using individual polybags during shipping, are a great way to reduce the amount of plastic waste in your supply chain. This can also reduce overall weight of your freight, reducing shipping cost.
Consolidate shipments whenever possible. Planning ahead can make a major difference in fuel usage and transportation costs overall.
Sustainable Design
The recent trend towards zero waste and plastic free packaging can mitigate concerns of what happens post-consumer. Companies like Bite (toothpaste tablets in glass bottles) and by Humankind (exchanges one-time packaging for refillable packaging) are just two of the companies making it their mission to reduce and eliminate plastic waste.
Bag materials such as jute or juco (jute/cotton mix) are biodegradable and compostable.
Packaging goods in cotton totes and pouches instead of plastic is a great way to eliminate plastic waste and promote reuse over recycle.
If non-biodegradable materials must be used, consider implementing a system where consumers have the opportunity to turn in their used goods. Programs such as Blue Jeans Go GreenTM take responsibility for recycling materials that usually end up in landfills.
Keeping an eye on sustainability during design, manufacturing, and shipping is necessary for staying relevant in our rapidly changing consumer environment. While promoting recycling and using recycled materials is always a great option, the global trend towards eliminating waste will continue to pick-up steam as the viability of recycling decreases.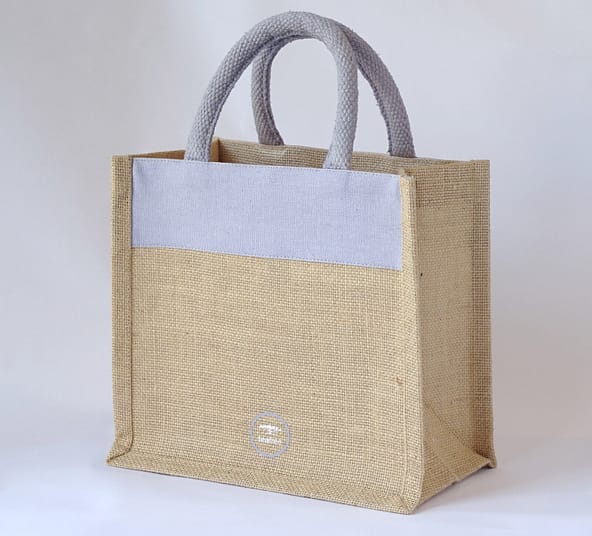 Sources:
"National Sword and China's Restriction on the Import of Recyclable Material", CalRecycle, March 21, 2019