Here at Custom Direct Promotions, we pride ourselves on finding cutting-edge materials and methods that are out there, and then being able to convey that useful information to others in the business – it makes for great connections and a solid basis for collaborations. We're always looking for new, innovative materials to help our clients make themselves stand out.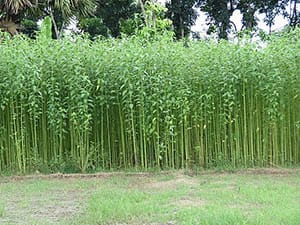 Jute, or burlap, is one of the most sustainable materials out there right now. You might already be familiar with jute; it's a vegetable fiber whose appeal lies in the strength of its threads and its environmentally friendly aspects. To name just a few qualities, jute plants require little water to grow and do not require pesticide. They are durable, fire resistant, biodegradable, 100% compostable, and have an extremely low ecological and carbon footprint (much lower
than cotton). 
Jute has a coarse, roughly-woven look that appeals to some users because of its "natural" look and feel. For those who do not favor the unpretentious rugged look, the coarse jute is transformed into a uniquely soft, durable fabric unlike any other when treated with enzyme washing.
Our Indian mill practices a very safe, environmentally friendly enzyme washing process. Dyed material is cut to size and are laundered with organic enzyme. The enzyme wash removes the stray hairs and remove the lignin (organic polymers) from the surface of the jute and break down the hard carbohydrates in the surface, reducing the rigidity and making it soft to the touch.
After the washing process is finished, solid waste is separated and turned to the government for further sludge treatment while the water goes through an effluent treatment plant. Recycled water is used for gardening and other sustainable purposes.
This enzyme-washing transforms this coarse sustainable fiber into a soft unique fabric. Check out the Chelsea Market tote we produce as a prime example.